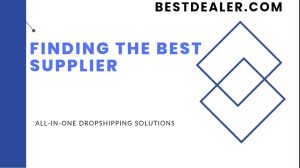 The primary thing to consider as a drop shipper is the supplier's availability. The supplier has a significant part to play in an eCommerce business. They should meet your needs to run the store—a supplier who is sure to ship quality products to the shoppers in time.
Thousands of suppliers can satisfy your requirements. However, it is essential to find a perfect one for order fulfillment. Happy customers will always give positive reviews, giving your store more insight.
The dropshipping business has a less-risky nature, which makes it popular. It is easy to expand your dropshipping business. Starting in dropshipping needs a little investment. Later you'll make significant profit margins without carrying inventory.
Conducting thorough research is one of the best decisions when looking for the best supplier. You can find your niche market using BestDealer, a third-party seller, to help you with product sourcing, custom branding, order fulfillment, and more.
Ensure you consider the following factors before diving into dropshipping:
The qualities of a good products
The best supplier
The market
The Characteristics of A Good Dropshipping Product
Every entrepreneur knows that good products are only those needed by the customers. Ensure your business sells what people search for if you want to thrive. It is essential to consider BestDealer, a trusted third party, to help you with product sourcing.
BestDealer will help you find the best quality products that sell well and satisfy customers. Do your research and find products that suit your niche. BestDealer has a list of hot-selling products recommended for you.
Below are the qualities of dropshipping products
Avoid fragile products
Avoid too-heavy products
Find unique products
Products that solve the consumers' problem
Sell easy-to-use products
Choose products that are not too expensive
Avoid Fragile Products
Fragile products are delicate and might break easily. As a dropshipper, avoid products that might cause issues during shipping. Customers will get upset when they receive products in lousy condition. Only happy customers will give good reviews. So ensure that you have satisfied customers.
The burden of refunds will rely on you, which might make the business suffer a significant loss. Avoid glass products, especially if you are a beginner. Instead of making profits, fragile products might make your business collapse without catching up.
Durable products are easy to ship. The products will reach customers without breaking, which means you will have happy customers. Avoiding fragile products is as good as preventing disputes with your clients.
Avoiding Heavy Products
Heavy products are expensive to ship. When choosing dropshipping products, avoid huge products like furniture, extensive fitness equipment, etc. Shipping these products will cost alot. Maintain your large profit margin by cutting out the excessive shipping fees.
Find Unique Products
Unique products make your business stand out from many Shopify stores. For example, if you sell ordinary products. No one will bother buying from you when they can go to the local store.
Try to sell products that aren't available in local stores. Dropshipping involves selling products that a customer will look for on the internet. So, optimize your store with SEO to rank when customers look for specific products.
Selling Products That Solve the Consumers' Problems
Are you aware of the consumers' pain points? Ensure that the products you are selling can serve a proper function or it can solve a problem. Knowing what the product does for your customers is the best way to make great sales.
You can demonstrate these products through a video showing how to use the item. Giving tutorials might attract your audience's attention and deliver the important use of your products.
Sell Easy-to-Use Products
Complicated products require a lot of skills to use them. It is always a good idea to go for easy-to-use products. Complex products also attract your customers. in return, they find the products as hard-to-use. As a result, they may try to return the item, get dissatisfied, and leave a bad review.
Products That Are Not Too Expensive
Consider choosing products that have a considerable profit margin. Expensive products don't mean that that product is better for dropshipping. Cheap products that are of high quality will make you earn significantly.
It is optional that you avoid these products. You can sell relatively expensive ones as well. However, when you sell expensive products, ensure that you are ready to offer pre-support for the customers.
For instance, when selling goods above $1000, customers must build trust with the seller. The shoppers will call to hear from you and most probably ask related questions. To sell expensive products, offer a high-quality pre-sale service.
The Best Supplier
What are the qualities of a good supplier? A perfect supplier is reliable in making store owners find success in all your dropshipping services. BestDealer helps you determine an excellent supplier to ensure a smooth time in order fulfillment.
The best supplier is the one who will ship orders on time and provide your business with quality products that meets your standards. Always consider suppliers that will offer products in all seasons.
How do you know a good supplier? You can start by checking the amount of stock available. Ensure that the number of products available is more than 3000 items. Checking out the number ensures that the supplier has enough products for you to run your business.
The Market
The market is the most crucial part of the success of your store. Without the market, there will be no sales, and with no sales, there is no profit. So before you import goods from the supplier, you need to be sure about your target audience.
After finding the best supplier and the right products, look for more customers through social media platforms. Social media platforms like Facebook are the real deal in finding sales. You can start marketing the products through paid ads on these platforms.
Find Your Supplier
Finding the best supplier might be challenging. However, BestDealer is the best third-party seller who will help you find the right supplier to help you fulfill your orders. The best supplier is always reliable in making your Shopify dropshipping run smoothly.